Download Vcard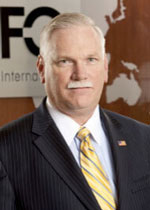 Walter Donaldson is the Chief Operating Officer for Freeh Sporkin & Sullivan LLP ("FSS"). Walter brings over 40 years of executive management experience to the law firm, overseeing security divisions, investigative groups, compliance and operations personnel. He has managed multi-million-dollar annual budgets and global divisions for Fortune 20 corporations. Walter has overseen complex international fraud and regulatory cases; his experience, spanning five continents working in 57 countries, includes matters involving cybercrime, computer forensics, bribery and corruption, BSA/AML/OFAC compliance, FCPA regulatory violations and testing, M&A due diligence investigations, security reviews and corporate investigations.
Walter was previously the Managing Director and the licensed private investigator for Freeh Group International Solutions, LLC. He served in that capacity from 2010 to 2020. During that time, he traveled globally managing client engagements ranging from corporate fraud, bribery and corruption investigations, data breach & incident response investigations, compliance & regulatory reviews related to FCPA, AML/CTF/OFAC and cryptocurrency. He performed and managed risk / security assessments of corporations / institutions for higher education and executive homes/retreats. He provided and managed executive protection details, Red Team physical security operations, active shooter response education, event security planning and also oversaw the firm's computer forensic engagements among other areas of expertise.
From 2006 to 2010, Walter served as the Global Special Investigations Director for Bank of America / Merrill Lynch. He was responsible for the special investigation's division, cybercrime investigations division, Merchant Fraud division, and identity theft investigations. Walter also had responsibility for all of physical security operations across Canada. He also worked with the International Association of Chiefs of Police (IACP) to design and implement their national "Model Policy" for investigating identity crimes across the United States. From 2008-2010 Walter served as the U.S. Representative to INTERPOL for global cyber and payment card crimes at its General Secretariat headquarters in Lyon, France. While working for Bank of America / Merrill Lynch, Walter supported the acquisition and integration of six financial institutions including: MBNA (2006-35B), LaSalle Bank (2007-21B), U.S. Trust (2007-3.3B), Cuets (2007-As a subsidiary of MBNA Canada Bank), Countrywide (2008-4.1B) and Merrill Lynch (2008-50B, all stock). After retiring in 2010 from Bank of America, Walter joined Freeh Group International Solutions, LLC.
From 1987 to 2006, Walter served as the Global Director of Corporate Investigations for MBNA America. He managed all investigative offices globally as well as the executive protection for principles in the U.S. and Mexico. Walter oversaw corporate fraud auditing and regional / country risk assessments for both vendors and new corporate operations. He established some of the first computer forensic labs in the U.S., Canada and the U.K. Walter served as the Global Director of investigations for twenty years before the company's acquisition by Bank of America.
Walter is a Veteran of the United States Coast Guard and graduate of the Coast Guard, Maritime Law Enforcement Academy. He received an honorable discharge following the completion of his tour of duty. However, he remains active with the Coast Guard Tactical Law Enforcement Association. Walter holds multiple professional security and compliance certifications and maintains an active U.S. government security clearance for sensitive matters. Walter currently serves as a member on several Board of Directors including the Vidocq Society, where he also serves as the CISO. The Vidocq Society provides law enforcement with pro bono expertise in the investigation of cold case homicides. Walter maintains an office in Greenville, Delaware.